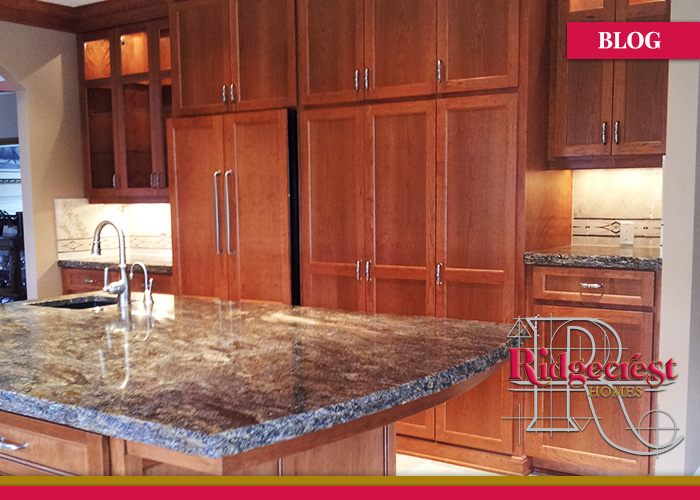 Custom Cabinets
If you're thinking about giving your kitchen a makeover, consider having your custom remodel contractor forego the standard cabinetry and getting some custom cabinets built instead.  A skillful custom remodel contractor, like Ridgecrest Homes, can build you kitchen cabinets that will not only look absolutely stunning and turn your kitchen into a showplace, but provide a wide range of useful features that you won't find anywhere else.
Custom cabinets are an art form where craftsmanship meets functionality, with nifty extra features like a spice rack pull out, so that all of your spices can be easily stored and accessed.  No more searching through a jumble of small bottles, dropping them on the stove or having them fall on your head when you open the cabinet door.  A microwave drawer frees up counter space and places your microwave conveniently and safely at hip level for easy access.
With custom cabinets, you can choose the wood type, stain color and finish, cabinet door style, moldings and decorative hardware.  Select the number and layout of shelves, drawers and other types of storage space.  Add built-in cutting boards, appliance cubbies, glass door panels, wine racks and more for your very own, signature kitchen design.
Your kitchen is the heart of your home, where friends and family gather, meals are prepared, wine is shared and everyone feels comfortable.  Make it one-of-a-kind, beautiful and functional all at the same time with custom cabinets, hand crafted right here in the USA.